The Berkshires are known for its beautiful mountain hikes and scenic drives.  From Mt. Greylock's spectacular views of North Adams and Williamstown,  October Mountain's serene vistas in Lenox and Lee, and Monument Mountain's hawks eye views in Great Barrington - a day in the Berkshire hills is a wonderful day - unless your car won't start when you get back to it. 
Don't let a dead battery ruin a great day.  Jump starting your car is easy...as long as you know what goes where.  That's why Haddad Subaru has made

How to Jump Start a Car

printout available.  Just keep it in your glove box and you'll be ready if you ever need to jump start your car yourself.
If you end up needing a new battery,
Haddad Subaru's Parts Department
  has a large inventory of quality batteries.  Call them at
(888) 697-8046
.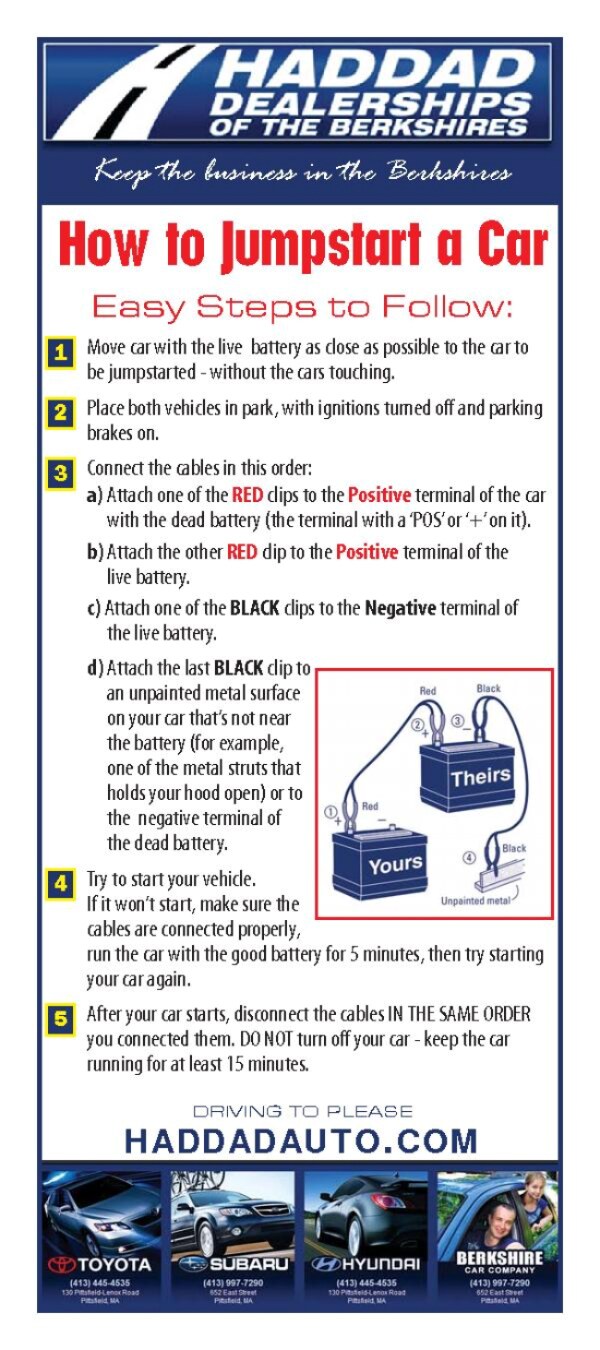 How to Jump Start a Car
1) Move car with the 'live' battery as close as possible to the car to be jumpstarted – without the cars touching.
2) Place both vehicles in park, with ignitions turned off and parking brakes on.
3) Connect the cables in this order:
a) Attach one of the Red clips to the Positive terminal of the car with the dead battery (the terminal with a 'POS' or '+'on it).
b) Attach the other Red clip to the Positive terminal of the 'live' battery.
c) Attach one of the Black clips to the Negative terminal of the 'live' battery.
d) Attach the last Black clip to an unpainted metal surface on your car that's not near the battery (for eg, one of the metal struts that holds your hood open).
4) Try to start your vehicle.  If it won't start, make sure the cables are connected properly, run the car with the good battery for 5 minutes, then try starting your car again.
5) After your car starts, disconnect the cables in the same order you connected them.  DO NOT turn off your car – keep the car running for at least 15 minutes.
How to Change a Flat Tire
is also available.