The 2022 Subaru Love Promise Community Commitment Award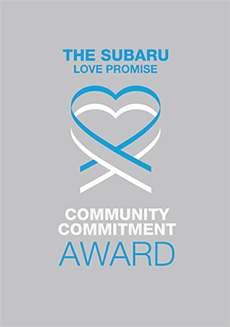 We've been nationally recognized for our dedication to our community and the Subaru Love Promise.
We're honored to receive the 2022 Subaru Love Promise Community Commitment Award. This award nationally recognizes Subaru retailers who are making the world a better place while demonstrating an outstanding commitment to supporting passions and causes in local communities. These efforts are focused in important areas such as the environment, community, health, education, and pets.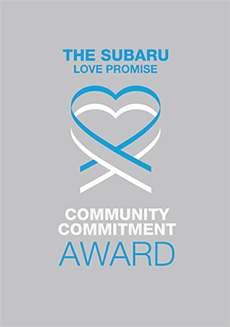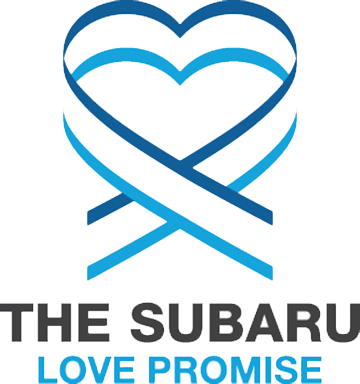 What is the Subaru Love Promise?
Subaru and our retailers believe in making the world a better place and the Subaru Love Promise is our vision of respecting all people. This is our commitment to show love and respect to our customers and to work to make a positive impact in the world.
How is Haddad Subaru dedicated locally to the Love Promise?
Our Love Promise can be seen in various partnerships with local charities and non-profits. We're grateful for the opportunity, not only to be a part of our community, but to serve it as well.
Reid Middle School, Morning Side School, Richmond School
Elizabeth Freeman Center, Hillcrest Educational Center
Love Promise Stories from Haddad Subaru
Subaru and Haddad Subaru believe in making a positive impact on the communities in which we live and work. We uphold that belief through our Love Promise Community Commitment. Every month, we select inspiring stories from customers and partners from around our area who strive to support our collective commitment and feature them here
Haddad Subaru Donates Equipment for Hands on Technician Training at Local Vocational High School - Shannon D
Haddad Subaru donated an engine and transmission to McCann Tech High School Automotive Vocational program. These two key contributions will help future technicians with hands on experience. The McCann Auto program is run by two ASE Master Certified Instructors and has successfully placed graduates at shops around Berkshire County. The donation of this important equipment is valued at $6,500. Haddad Subaru is so happy to help our educators and kids in so many facets especially the extremely important trades!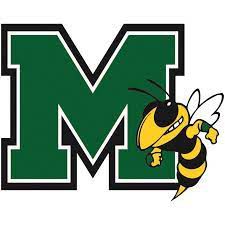 ---
Haddad Subaru Particpates in Thanksgiving Angels - Jane P
On November 22, 2021 Haddad Subaru team joined the Thanksgiving Angels to help distribute Turkeys and the fixings to Berkshire County families in need. Each year the Thanksgiving Angels provide quality Thanksgiving meals to 100s of families throughout the county. Haddad Subaru is honored to play a small role in helping with such an incredible act of kindness. This year they were able to help feed approximately 1,600 families a Thanksgiving meal. Members of every department in Haddad Subaru including Sales, Parts and Service helped bag items, load cars and disperse turkeys, vegetables, stuffing, cranberry sauce and home-baked goods. This is the 6th year that Haddad Subaru has participated in distributing and delivering Thanksgiving meals to those in need in Berkshire County. General Manager Chris Kramek says ""This is one of the few charitable events we can physically get involved, and directly see the results of our efforts. I also enjoy our staff's participation, the call to action was unmatched."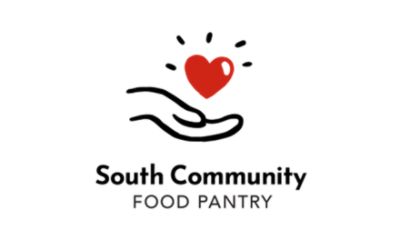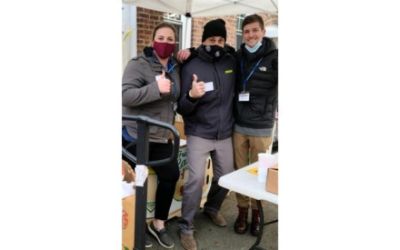 ---
Jojo Rolls Home! - Catherine H
Jojo, a cute, tan chihuahua mix puppy and her two brothers arrived at Berkshire Humane Society in June. The four-month-old pup did not have full control of her back legs and got around by dragging them behind her. She had luxating patellas, or bad kneecaps. One of her brothers had the same condition, but he could walk. Kayla, a friend of Berkshire Humane Society, was drawn to Jojo and was interested in adopting her. "I have a genetic joint disorder, so I really understand what she and her brother deal with," said Kayla. "[I] felt a special connection." At the time, Jojo hadn't been examined by veterinarian specialists, so it was possible that she would need surgery. With two other dogs already in her family, Kayla "wasn't 100 percent sure" she could provide the best place for surgical recovery. She adopted Jojo's bad-kneed brother instead, naming him Wren. Luxating patellas is a common birth defect of small dog breeds. Wren's condition was not debilitating, but Jojo's was grade 4, the worst it could be, and a specialist thought she might also have some neurological damage. As it turned out, veterinarians thought surgery would not help, so the best bet was to get Jojo a set of wheels. Aside from lack of full functionality of her hind legs, Jojo was otherwise healthy. When volunteer Debbie saw Jojo's remaining brother playing roughly with her and "taking her down", she thought, "I can't leave you here like that." Debbie and fellow volunteer Pete took Jojo out of the shelter and to their home to foster her while she waited for her cart. Jojo thrived under Debbie and Pete's care, becoming house-trained, riding in a baby buggy, going on hikes in Pete's backpack and snuggling with Dboy, Debbie and Pete's cat, who was bigger than little Jojo. Finally, the day came to go to Eddie's Wheels for Pets in Shelbourne Falls, Massachusetts. Leslie of Eddie's Wheels had seen a video of Jojo and said, "Jojo is adorable. I see a lot of rehab potential." "It was an incredible experience," said Pete when Jojo got her doggy wheelchair. "There were other dogs running around with their wheels and Jojo was running around with them. It was amazing." "We couldn't believe how fast she was," said Debbie. "She took to [the wheels] right away." Two days after becoming mobile, Jojo rolled into the showroom at Haddad Subaru, a longtime supporter of Berkshire Humane Society. For Subaru's October 22, National Make a Dog's Day, Haddad Subaru announced they would cover the cost of Jojo's wheels. When a video of Jojo at Haddad Subaru ran on Berkshire Humane Society's page, Kayla watched. She heard Executive Director John Perreault say we were looking for a good home for Jojo. Kayla approached Berkshire Humane Society Kennel Supervisor Stacey to see if she would make a good candidate. The answer was a resounding, "Yes!" But it wasn't just up to the humans to decide. Wren and Kayla's other dogs, Ruddy Duck and Bandit, needed to agree as well. At a meet and greet all went well. Jojo played with Wren and seemed especially smitten with Ruddy Duck. "She loves him and will chase him around and give him kisses," Kayla reported the day she finalized Jojo's adoption. "Even with her issues and health, Jojo is just a normal dog and wants to play," said Kayla. This is something foster parents Debbie and Pete realized when they agreed to foster, but not adopt Jojo. "I think she would do better in another household, maybe one with another dog," said Debbie. "They deserve a lot of credit," Kayla said of Debbie and Pete. And so does everyone involved in giving this sweet and sassy girl the best start to what we hope for all of our shelter pets -- a long and happy life.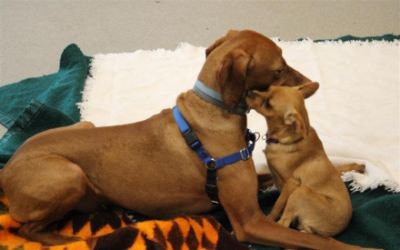 ---
Haddad Subaru Gets Jojo Her Own Wheels - John P
Haddad Subaru has had a long-standing relationship with the Berkshire Humane Society. This year for National #MakeADogsDay, General Manager Chris Kramek reached out to the Shelter Director John Perreault to see how Haddad Subaru could help a dog in need. John told Chris about JoJo, a sweet dog who came to the shelter a couple of months ago. JoJo was partially paralyzed in her rear legs. After having her thoroughly assessed the veterinary team determined that surgery was not a good option for JoJo. The best option for JoJo would be a doggy wheelchair. After hearing JoJo's story Chris and the Haddad Subaru team knew exactly how they could #makeadogsday for JoJo. They purchased her a great set of wheels. JoJo took to her new wheels quickly and her current foster parents are working with her to gain confidence in her newfound mobility. The wheels are going give JoJo a better quality of life and we hope it will help give her a better chance of finding her furever home. General Manager Chris Kramek said "It is really great to see JoJo move about so freely. It is so wonderful to see something we were able to do directly impact a dog's life in such a great way. We can't wait to see where JoJo's wheels take her."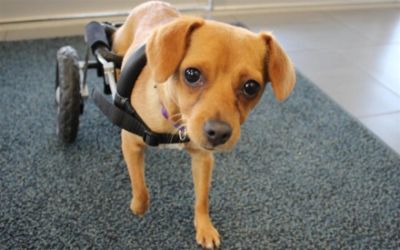 ---
Haddad Subaru Donates Maintenance to Shelter Car - John P
Pauline and Howard Clark, customers of Haddad Subaru and dedicated volunteers of the Berkshire Humane Society donated a 2018 Certified Subaru Forester to the Berkshire Humane Society for their use in transporting animals to key services and appointments. Haddad Subaru worked with Pauline and Howard Clark on finding the perfect vehicle for safely transporting Berkshire Humane Society animals. Haddad Subaru also provided the Berkshire Humane Society with 2 years of complimentary maintenance on the vehicle to help ensure that it is always ready to get the animals where they need to go like critical vet appointments, trainings and adoption events. John Perreault and the Berkshire Humane society had the vehicle wrapped with a thank you message to Haddad Subaru for all their support over the last 8 years. The wrap was also generously donated by the Clarks. Haddad Subaru supports the Berkshire Humane Society several times throughout the year including the yearly car raffle that is one of the Berkshire Humane Societies biggest fundraisers of the year and by sponsoring a dog adoption every single week!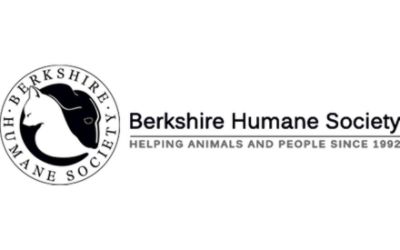 ---
Haddad Subaru Sponsors Weekly Pet Adoption - John P
Haddad Subaru has always admired the Berkshire Humane Society's efforts to find the right home for every pet they shelter. That is why Haddad Subaru is pleased to continue our partnership with the Berkshire Humane Society by presenting the Haddad Subaru 'Dog of the Week'. Each week, one dog in need of a home is highlighted in our showroom, on the Haddad Subaru website and through their advertising on social media and the radio. If the chosen dog is adopted within that week, Haddad Subaru donates $50 to the Berkshire Humane Society toward the adoption of the Dog of the Week. Haddad Subaru hopes that by spotlighting one lovable dog a week, we will help them find forever homes that much quicker. Haddad Subaru is happy to be able to assist resident of the Berkshires and beyond with the adoption fees of their rescues. Most importantly they are so happy they can help dogs find their furever homes. General Manager Chris Kramek has personally rescued 4 dogs from Berkshire Humane Society because he believes in the great organization and all the good they do in not only caring for dogs but with creating awareness for rescuing within our community. He hopes that by sponsoring the weekly pet adoption he can help other families find their perfect dog for them!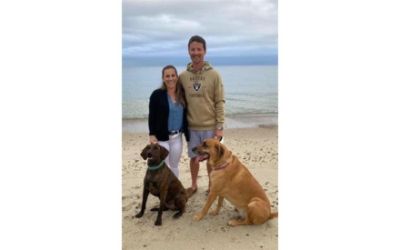 ---
Haddad Subaru Completes Teachers Wish Lists - Chris K
Haddad Subaru Completes Teachers Amazon Wish Lists Haddad Subaru made the following social media post on August 16th 2021. "We all know that teachers are very important to our community and our children. Many teachers go above and beyond for their students spending their own money, time, and resources to ensure that their students have the best opportunity to learn, grow and develop.The 2020-2021 school year presented teachers with extremely challenging circumstances beyond anything anyone could have ever imagined. From online learning, to finding ways to safely get back into the classroom, our already amazing teachers exceeded our expectations. Their ability to adapt, lead, and show compassion to our students has impressed and inspired us. Haddad's would like to show our appreciation to local Berkshire County teachers. The Haddad Dealerships would like to contribute $500 to 8 local teachers Amazon Classroom Wish Lists. To be eligible the teacher must teach within K-12th grade at a Berkshire County, Massachusetts school for the 2021-2022 school year. "In just 4 days Haddad Subaru received over 200 submissions of Berkshire County Teachers. Due to the overwhelming response from the post, in addition to the original 8 $500 donates they donated an additional to 8 more teachers an additional $250. In total, Haddad Subaru donated $6,000 to 16 classrooms across Berkshire County. Teachers used the funds to add to their classroom libraries, create more inclusive classrooms and create new functional seating to improve students learning environments.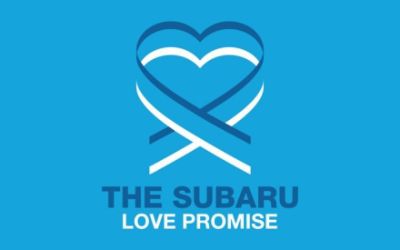 ---
Finley Finds a Home - Catherine H
Nikki and her husband, Keith, had been on Berkshire Humane Society's waiting list for a puppy for a couple of months. Their 11-year old daughter, Sophia, was getting antsy. "Patience," said Nikki. "The right dog will come along." Their patience paid off. In early October, a shipment of 31 puppies arrived at Pittsfield Airport (see below) bound for Berkshire Humane Society. Little Endive, a 3-month-old terrier mix, was among them with his littermates, all named after varieties of lettuce. The family, from Copake Falls, New York, had not heard about the transport of puppies, so were pleasantly surprised when Berkshire Humane Kennel Staff gave them a call. They made the 35-minute drive to the shelter to meet Endive, and when they saw him, "It was all over," said Nikki. Not keen on "Endive", Nikki liked the name "Fin." Sophia preferred "Finley", which was also the name of one of the first dogs Nikki's mother had, so "Finley" it was. Sophia was so happy she cried when it was apparent the puppy would be theirs. "He's a great addition to the family," said Nikki. "He's the best dog we ever had. He's friendly, he sits so well, he listens, he's great in the car and he sleeps all night." Finley enjoys exploring 9 acres of property at with his family at his new home. Not bad digs for a pup who earlier this month was homeless in an overcrowded shelter in Alabama with little chance of being adopted there!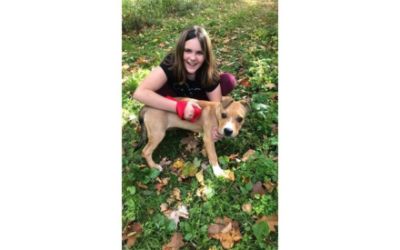 ---
Haddad Back Pack Drive Through - Chris K
During these unprecedented times, local business must support their community. Our children have a confusing and stressful school year upon them. We decided to make the start to their school year fun. Every community suffers from poverty in one way or another, Covid has only added to the economical stresses of our small town community. Haddad Subaru purchased 500 backpacks full of student's supplies for an inspirational school year. The backpacks come in many neat colors, the children really enjoyed picking them out. The drive through was setup at our dealership and allowed for families to safely pick their back packs from their vehicles. We were met with grateful parents, children, and care providers. The response from our community was amazing.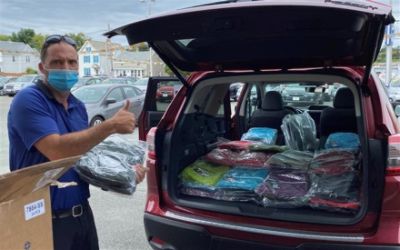 ---
Lake Onota Preservation Association - Michael R
Haddad Subaru's President, George Haddad, serves on the board of the Lake Onota Preservation Association (LOPA). George advocates for the protection of the lake and supports their efforts at great lengths. The purpose of LOPA is to assist the City of Pittsfield on all matters regarding Lake Onota. This volunteer organization provides education and scientific study to help preserve one of the largest lakes in Pittsfield and Berkshire County.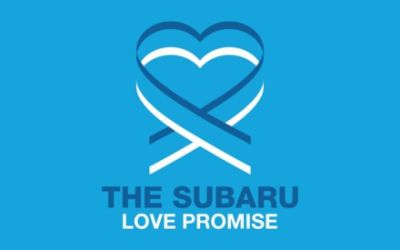 ---