The 2021 Subaru Love Promise Community Commitment Award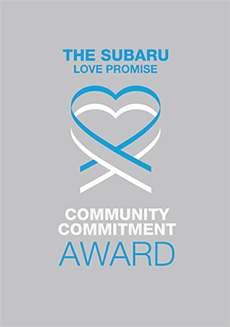 We've been nationally recognized for our dedication to our community and the Subaru Love Promise.
We're honored to receive the 2021 Subaru Love Promise Community Commitment Award. This award nationally recognizes Subaru retailers who are making the world a better place while demonstrating an outstanding commitment to supporting passions and causes in local communities. These efforts are focused in important areas such as the environment, community, health, education, and pets.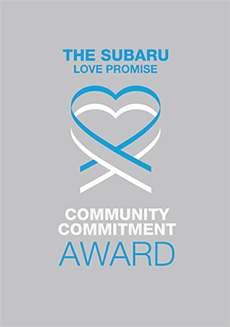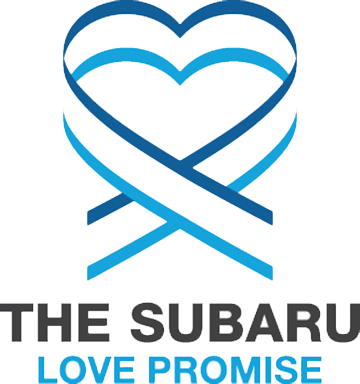 What is the Subaru Love Promise?
Subaru and our retailers believe in making the world a better place and the Subaru Love Promise is our vision of respecting all people. This is our commitment to show love and respect to our customers and to work to make a positive impact in the world.
How is Haddad Subaru dedicated locally to the Love Promise?
Our Love Promise can be seen in various partnerships with local charities and non-profits. We're grateful for the opportunity, not only to be a part of our community, but to serve it as well.
Reid Middle School, Morning Side School, Richmond School
Elizabeth Freeman Center, Hillcrest Educational Center
Love Promise Stories from Haddad Subaru
Subaru and Haddad Subaru believe in making a positive impact on the communities in which we live and work. We uphold that belief through our Love Promise Community Commitment. Every month, we select inspiring stories from customers and partners from around our area who strive to support our collective commitment and feature them here
Haddad Subaru Donates Maintenance to Shelter Car - John P
Pauline and Howard Clark, customers of Haddad Subaru and dedicated volunteers of the Berkshire Humane Society donated a 2018 Certified Subaru Forester to the Berkshire Humane Society for their use in transporting animals to key services and appointments. Haddad Subaru worked with Pauline and Howard Clark on finding the perfect vehicle for safely transporting Berkshire Humane Society animals. Haddad Subaru also provided the Berkshire Humane Society with 2 years of complimentary maintenance on the vehicle to help ensure that it is always ready to get the animals where they need to go like critical vet appointments, trainings and adoption events. John Perreault and the Berkshire Humane society had the vehicle wrapped with a thank you message to Haddad Subaru for all their support over the last 8 years. The wrap was also generously donated by the Clarks. Haddad Subaru supports the Berkshire Humane Society several times throughout the year including the yearly car raffle that is one of the Berkshire Humane Societies biggest fundraisers of the year and by sponsoring a dog adoption every single week!
---
Haddad Subaru Sponsors Weekly Pet Adoption - John P
Haddad Subaru has always admired the Berkshire Humane Society's efforts to find the right home for every pet they shelter. That is why Haddad Subaru is pleased to continue our partnership with the Berkshire Humane Society by presenting the Haddad Subaru 'Dog of the Week'. Each week, one dog in need of a home is highlighted in our showroom, on the Haddad Subaru website and through their advertising on social media and the radio. If the chosen dog is adopted within that week, Haddad Subaru donates $50 to the Berkshire Humane Society toward the adoption of the Dog of the Week. Haddad Subaru hopes that by spotlighting one lovable dog a week, we will help them find forever homes that much quicker. Haddad Subaru is happy to be able to assist resident of the Berkshires and beyond with the adoption fees of their rescues. Most importantly they are so happy they can help dogs find their furever homes. General Manager Chris Kramek has personally rescued 4 dogs from Berkshire Humane Society because he believes in the great organization and all the good they do in not only caring for dogs but with creating awareness for rescuing within our community. He hopes that by sponsoring the weekly pet adoption he can help other families find their perfect dog for them!
---
Haddad Subaru Completes Teachers Wish Lists - Chris K
Haddad Subaru Completes Teachers Amazon Wish Lists Haddad Subaru made the following social media post on August 16th 2021. "We all know that teachers are very important to our community and our children. Many teachers go above and beyond for their students spending their own money, time, and resources to ensure that their students have the best opportunity to learn, grow and develop.The 2020-2021 school year presented teachers with extremely challenging circumstances beyond anything anyone could have ever imagined. From online learning, to finding ways to safely get back into the classroom, our already amazing teachers exceeded our expectations. Their ability to adapt, lead, and show compassion to our students has impressed and inspired us. Haddad's would like to show our appreciation to local Berkshire County teachers. The Haddad Dealerships would like to contribute $500 to 8 local teachers Amazon Classroom Wish Lists. To be eligible the teacher must teach within K-12th grade at a Berkshire County, Massachusetts school for the 2021-2022 school year. "In just 4 days Haddad Subaru received over 200 submissions of Berkshire County Teachers. Due to the overwhelming response from the post, in addition to the original 8 $500 donates they donated an additional to 8 more teachers an additional $250. In total, Haddad Subaru donated $6,000 to 16 classrooms across Berkshire County. Teachers used the funds to add to their classroom libraries, create more inclusive classrooms and create new functional seating to improve students learning environments.
---
Finley Finds a Home - Catherine H
Nikki and her husband, Keith, had been on Berkshire Humane Society's waiting list for a puppy for a couple of months. Their 11-year old daughter, Sophia, was getting antsy. "Patience," said Nikki. "The right dog will come along." Their patience paid off. In early October, a shipment of 31 puppies arrived at Pittsfield Airport (see below) bound for Berkshire Humane Society. Little Endive, a 3-month-old terrier mix, was among them with his littermates, all named after varieties of lettuce. The family, from Copake Falls, New York, had not heard about the transport of puppies, so were pleasantly surprised when Berkshire Humane Kennel Staff gave them a call. They made the 35-minute drive to the shelter to meet Endive, and when they saw him, "It was all over," said Nikki. Not keen on "Endive", Nikki liked the name "Fin." Sophia preferred "Finley", which was also the name of one of the first dogs Nikki's mother had, so "Finley" it was. Sophia was so happy she cried when it was apparent the puppy would be theirs. "He's a great addition to the family," said Nikki. "He's the best dog we ever had. He's friendly, he sits so well, he listens, he's great in the car and he sleeps all night." Finley enjoys exploring 9 acres of property at with his family at his new home. Not bad digs for a pup who earlier this month was homeless in an overcrowded shelter in Alabama with little chance of being adopted there!
---
Haddad Back Pack Drive Through - Chris K
During these unprecedented times, local business must support their community. Our children have a confusing and stressful school year upon them. We decided to make the start to their school year fun. Every community suffers from poverty in one way or another, Covid has only added to the economical stresses of our small town community. Haddad Subaru purchased 500 backpacks full of student's supplies for an inspirational school year. The backpacks come in many neat colors, the children really enjoyed picking them out. The drive through was setup at our dealership and allowed for families to safely pick their back packs from their vehicles. We were met with grateful parents, children, and care providers. The response from our community was amazing.
---
Lake Onota Preservation Association - Michael R
Haddad Subaru's President, George Haddad, serves on the board of the Lake Onota Preservation Association (LOPA). George advocates for the protection of the lake and supports their efforts at great lengths. The purpose of LOPA is to assist the City of Pittsfield on all matters regarding Lake Onota. This volunteer organization provides education and scientific study to help preserve one of the largest lakes in Pittsfield and Berkshire County.
---
Haddad Subaru Staff Walk A Mile In Her Shoes - Janis B
Haddad Subaru staff and their families participate in the Elizabeth Freeman Center's Walk A Mile each year. Walk A Mile is an event that the Elizabeth Freeman Center puts on each year to raise awareness against domestic violence and sexual assault. The walk also serves as Elizabeth Freeman Center's fundraiser. Haddad Subaru as a been underwriter for the last 3 years. "With Haddad's support, I see where our true commitment and monetary dedication goes. The awareness displayed during the walk with my two little girls is what it's all about for me. I want them and others to know what it's all about to walk a mile in someone else's shoes. Those shoes may see all sorts of different adversities, but the support we show helps unify a common goal" said Haddad Subaru General Manager, Chris Kramek. Team Haddad has over 60 employees walk each year. Our Director of Business Development, Shannon Davis, served on the Board of EFC and worked with them on community engagement and fundraising. The Elizabeth Freeman Center offers free and confidential counseling, shelter, legal advocacy, safety planning, teen dating violence prevention education, a 24/7 hotline.
---
Our Continued Partnership - John P
Haddad Subaru has been working with Berkshire Humane Society since 2011. Each week, we sponsor their Dog of the Week. If the DOTW gets adopted, we cover $50 of the adoption fee. This has helped many dogs get adopted because of the greater reach of potential adopters. Berkshire Humane has been chosen as our local "Share the Love" donation recipient three times over the years. The past seven years, we have co-hosted a Subaru Outback raffle to benefit the shelter. Tickets are sold at local businesses throughout the community, in addition to our dealership and BHS. We raised $2,193 for BHS this past June during the "Haddad Pet Game", a social media campaign in which participants posted photos of their pets. Berkshire Humane Society has also been our Subaru Loves Pets partner the past few years. We are so passionate about the work that BHS does for the furry friends in our community and look forward to continuing to grow our relationship with such an important organization. "Haddad Subaru is a valued partner of Berkshire Humane Society, helping raise funding and awareness for homeless animals. For almost 10 years, they've sponsored a "dog of the week" in which they've underwritten $50 of the designated dog's adoption fees. Many dogs have been adopted through this popular program. Haddad Subaru also co-hosts an annual raffle of a Subaru, which has become our biggest fund-raiser of the year, netting $35,000 – $40,000 after expenses. The shelter has grossed more than $450,000 with this fundraiser over the past seven years. BHS has also been chosen three times by Haddad Subaru to receive the "Share the Love" donation. These donations were more than $74,000 – all of which was used to help homeless animals.The funds raised from our collaboration with Haddad Subaru help provide basic necessities to homeless animals, such keeping them well-fed, healthy, and cool in the summer and warm in the winter. It also helps us help pet owners through our low-cost spay and neuter programs, pet food bank, and Safepet program for owners in crisis and family dog school. Children learn respect and compassion for all living creatures through our Humane Education program. Haddad Subaru has greatly increased awareness of all we do for people and homeless animals through their social media presence. Their efforts help us market shelter animals to a broader network and reach out to other potential donors. Without partners such as Haddad Subaru, Berkshire Humane Society could not provide valuable services to people and homeless animals because we receive no state or local funding, and are entirely dependent on the support and generosity of our community and partnerships. Since our inception in 1992, we've sheltered more than 50,000 pets. Working with local organizations and businesses like Haddad Subaru has made that achievement possible!" -Catherine Hibbard, Marketing Communications Manager, Berkshire Humane Society
---
Haddad Subaru and Hillcrest Ed. Partnership - Peter L
Hillcrest Educational Centers is honored to have been selected for a second year to be Haddad Subaru's hometown charity for the 2019 Share the Love event. In 2018, Subaru donated $26,880 to Hillcrest, which supported our students by providing additional sensory furniture such as bean bag chairs, a school store where students learn important vocational skills, materials for after school activities such as photography club, and additional equipment to enhance their overall experience at Hillcrest. The generosity of Haddad and its loyal customers supports Hillcrest's 160 students as they get the specialized and individualized treatment they need. Some students are working through traumatic pasts and learning how to cope moving forward. Others, like the kids in our autism program, are developing skills that will help them live successfully in their home communities. Knowing there is a wider community rooting for them is encouragement for staff and students alike to keep making progress. Thank you to Haddad Subaru and Berkshire County residents. Your support means the world to Hillcrest.
---
Thanksgiving Angels in Pittsfield, MA - Jane P
Haddad Subaru just participated in their 3rd Thanksgiving Angels event held on November 19th. Several organizations join together and hand out full Thanksgiving meals to the less fortunate and in need. They even provide fresh vegetables and sides to make the meal complete. Our entire Sales team takes part in this, and this is our second year providing transportation for this important event. Our team gives patrons a ride home or brings them wherever they need to go with their Thanksgiving essentials. This year, as well as previous years, we have provided rides to hundreds of Thanksgiving Angels recipients. Here at Haddad Subaru, we look forward to these events that unite our local community and can't wait to help with this event next year! "The Thanksgiving Angels is a collaborative project of 18 faith-based and civic organizations in Berkshire County. Each year, we join together to soften the edges of poverty in our community by providing a frozen turkey along with all the fixings for a Thanksgiving meal to approximately 1,450 family units so that they can enjoy a Thanksgiving meal in their homes. Each participating organization is responsible for procuring a specific food item which includes stuffing, gravy, canned and fresh vegetables, breads, pies, butter, cheese, milk, and eggs. Moreover, the Berkshire County businesses and individuals contributed $39,000 to this effort. The Thanksgiving Angels organization purchases all the turkeys along with other items for distribution. The distribution is held on the Monday prior to the Thanksgiving holiday. An additional distribution day is held on Tuesday for clients with special needs. Local children from the middle and high schools also participate in this event. One of the major logistical issues in this effort is transportation. Once the recipients are laden down with all their groceries and their frozen turkeys, taking public transportation is very problematic. Thankfully, Haddad Subaru has graciously, for the past two years, provided six vans with drivers to transport these individuals to their homes for the seven hours that this event takes place. Their help is crucial and most appreciated." Janie Pellish, Member Thanksgiving Angels Steering Committee
---