CHOOSE FROM OVER 30 DESIGNS!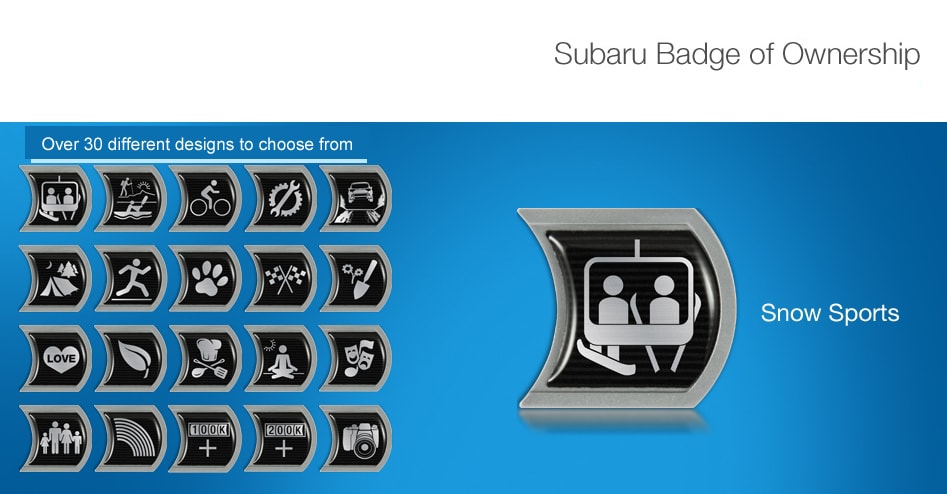 Show Your Subaru Pride with a Free Badge of Ownership
Whether you just bought your first Subaru model or your tenth, you can show your enthusiasm with your very own Badge of Ownership. This free customizable badge easily attaches to your Subaru with adhesive to show off your Subaru pride. If you're excited about your Subaru and you want everyone to know, you can use your Badge of Ownership to show how many wonderful Subaru models you've driven over the years. You can even add an even more individual touch with a series of Lifestyle Icons that showcase your favorite activities and things that are important to you -- just some of the things that make you... well, you!
Here's out it works. First, choose your Loyalty Number. This is the number of Subaru models you've owned so far; a number we're sure will only grow as time goes on! You can leave it at that if you want, but there are several Lifestyle Icons that you can add on to express your hobbies and interests. Once you've picked out the badges you like, just enter your shipping information with your Vehicle Identification Number and we'll send you your gift in a few weeks. This is just our way of saying "thank you" for being a Subaru customer!
Once your badge arrives, you can stick it to the back of your Subaru Outback or the side of your Subaru Impreza or really any metal surface you can think of. Ready to flaunt your Subaru Badge of Ownership around Pittsfield, Williamstown, North Adams, Great Barrington, and Bennington, VT? Order your badge today and we'll send it to you for free!
Are you not yet the proud driver of a Subaru? We can help you find the perfect new or pre-owned Subaru model for your needs so you can see why the experience of driving one is worthy of a Badge of Ownership. Visit us today to get started!