SUBARU STARLINK in-vehicle technology brings both entertainment and safety features to your vehicle.
SUBARU STARLINK Safety and Security services will bring you peace of mind, wherever your journey takes you. Whether you're in your vehicle, at your computer, or on your mobile device, these new features will enhance the safety and security of your Subaru through connectivity.

STARLINK entertainment features bring cloud and app connectivity into your vehicle and at your fingertips. Access news, food, weather, music, podcasts, audiobooks, and other multimedia content through Pandora, Aha, and SUBARU STARLINK apps and SiriusXM Satellite Radio. Whether you use iOS or Android devices, you can keep your hands on the wheel and attention on the road.
  Subaru Connected

 
  THE MYSUBARU APP

With a STARLINK connected services-equipped vehicle and the MySubaru app, you can lock/unlock your vehicle remotely, access your horn & lights, or even locate your vehicle on a map, all from your desktop, tablet or mobile device.


The new MySubaru app is required for Starlink Remote Services access.



New Safety and Security Features available on the 2016 Forester and coming soon to the 2016 Legacy and Outback

We're excited to announce new SUBARU STARLINK features, debuting on three Subaru models, that will help your Subaru keep you and your family even safer.




Automatic Collision Notification

When an airbag is deployed in your vehicle, Automatic Collision Notification will alert a STARLINK Customer Care Advisor, 24/7/365. Your advisor will then promptly communicate via the speakers in your car and send the appropriate first responder.




Stolen Vehicle Recovery

Get extra peace of mind knowing that a STARLINK Customer Care Advisor will work with police to help recover your vehicle if it is ever stolen.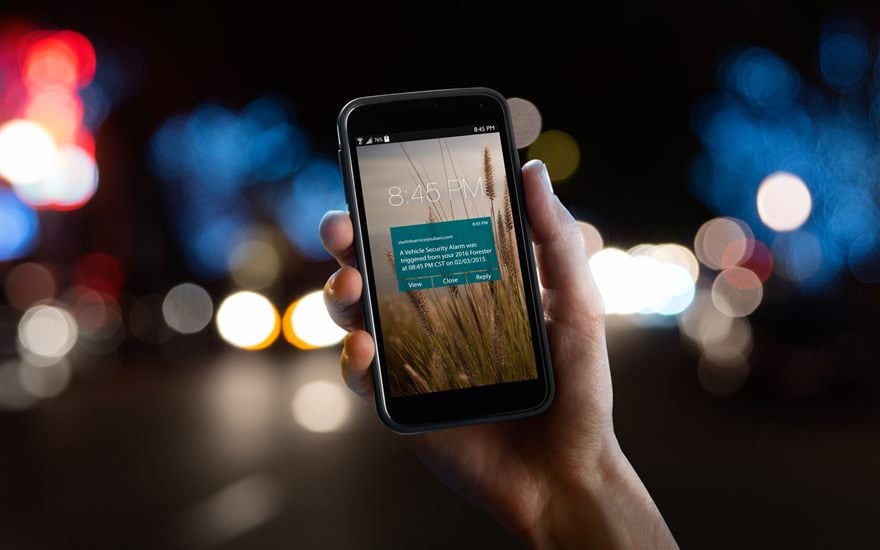 Vehicle Security Alarm Notifications

STARLINK will automatically notify you by email when your security alarm is activated, so you can contact police for assistance.

SOS Emergency Assistance

Sometimes an emergency doesn't involve airbags.
 To alert your STARLINK Customer Care Advisor manually, press the red "SOS" button in the overhead console to promptly connect to your advisor from anywhere in the U.S., Alaska, Hawaii, and the District of Columbia.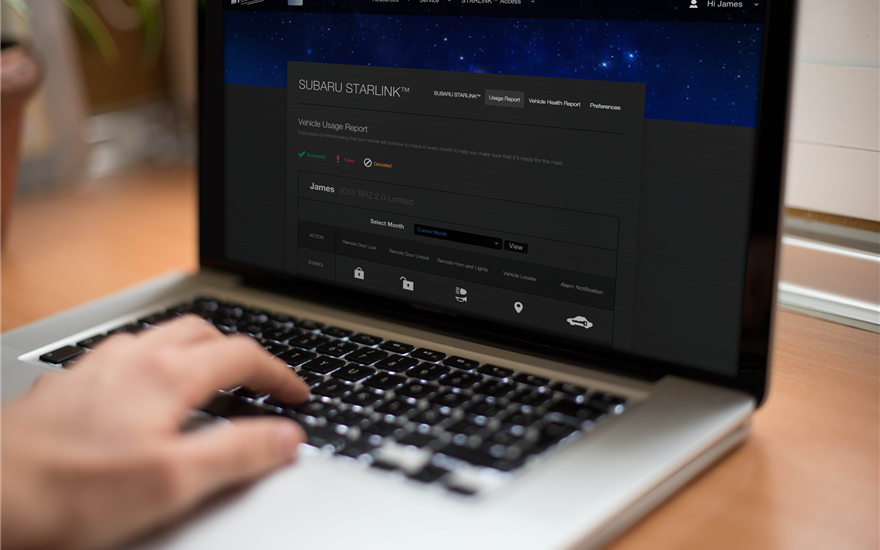 Monthly Vehicle Health Report

Once a month, STARLINK will email you a comprehensive diagnostic report on your vehicle's key systems. A link within the email will take you to a personalized website to view the report in full, so you can always be apprised of your vehicle's health and performance.

Remote Services

STARLINK allows you to activate various vehicle features remotely. Using your computer or mobile device, you can...
-Remote Lock/Unlock
-Remote Horn & Lights
-Remote Vehicle Locator

Enhanced Roadside Assistance

If you need roadside assistance in a nonemergency situation, a STARLINK Customer Care Advisor can send the appropriate assistance to you, 24/7/365. Press the blue "i" button on your overhead console for assistance, and help can be sent to your exact GPS location.




Diagnostic Alerts

STARLINK automatically runs a diagnosis of crucial vehicle systems. If a warning light pops up, you'll receive an email notification explaining the issue and how to resolve it - and with more serious issues, you'll have the information you need to bring to an authorized Subaru Technician.
SUBARU STARLINK Safety and Security Packages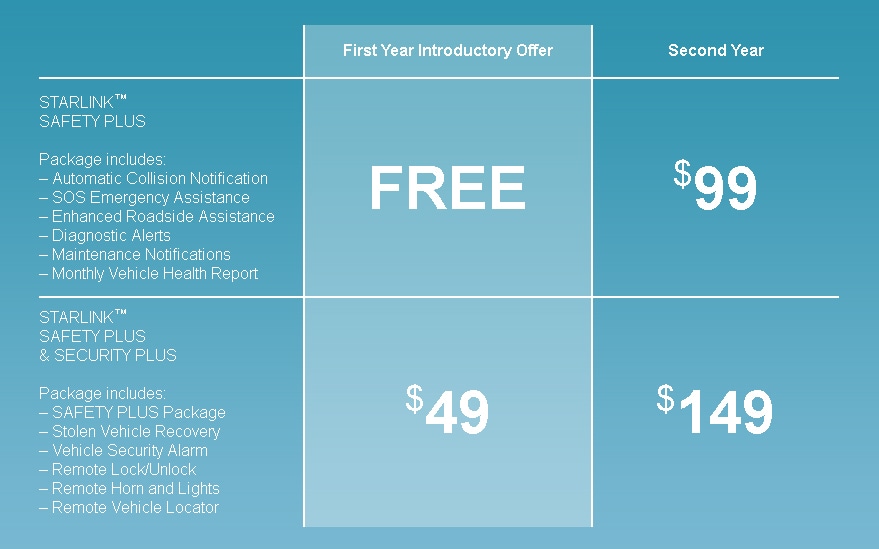 Additional packages available at time of purchase. See dealer for details.

STANDARD STARLINK FEATURES
PANDORA®
Set the tone for any road trip with millions of songs available on Pandora®. Using a connected smartphone, Pandora® controls are automatically duplicated from the mobile device interface onto your car's audio screen. Based on the user's selections, Pandora® will recommend similar song choices that you can play or skip, and you can change user stations as well. Choose the free version or the subscription plan.
AHA™
All your favorite content, well organized and at your fingertips, so you won't miss a beat when you're on the road. Thousands of available stations are easy to customize and include news, weather, Facebook, Twitter, music, podcasts, gas prices, and a lot more. Using a connected smartphone, the Aha™ mobile interface is duplicated on your car's audio screen. The standard Aha™ radio app is a great way to keep your life moving when you're on the move.
iHeartRadio®
With iHeartRadio® for Subaru you can create personalized custom stations right from the dashboard, drawing from Clear Channel's massive library of more than 1,500 live radio stations. Its safety-minded features help minimize driver distraction while offering a simple interface designed to provide seamless access to the iHeartRadio® digital service in-vehicle. It also provides a variety of other features including easy access to saved favorites, on-demand news, and entertainment talk show content.
Stitcher®

Stitcher is the leader in on-demand news, sports, talk, and entertainment audio programming. Access over 40,000+ shows from your favorite sources, including CNN, FOX, NPR, BBC, ESPN, and many more. Discover Stitcher, and control your listening easily and safely via your car's in-dash screen when you connect your smartphone with the SUBARU STARLINK app. Stitcher also lets you create a playlist of your favorite shows, always up-to-date with the latest episode, and enjoy personalized recommendations based on your listening.

SiriusXM®

You can now listen to everything, everywhere with a four-month free trial to the All Access package. Enjoy over 150 channels including commercial-free music, plus live play-by-play from every major sport, exclusive entertainment, talk, comedy, and world-class news. Plus, stream SiriusXM on the app and online when you are away from your vehicle. And with your four-month trial to SiriusXM Traffic service that comes with vehicles equipped with a navigation system, you'll get detailed information on traffic speed, accidents, road closings, construction, and much more.


HD RADIO®

Enhance your radio experience with 36 mixed AM/FM/SiriusXM® radio presets that allow you to access the station you want with a swipe of the touch screen. The all-digital HD radio personalizes your radio experience with iTunes tagging to identify that song you love and put it on your device.

BLUETOOTH

Subaru offers Bluetooth hands-free technology to manage phone and audio systems. Bluetooth-enabled mobile phones link directly through your Subaru audio system automatically, once connected. Receive and initiate calls or play music directly from your device - all while keeping it conveniently stowed away.


SiriusXM Traffic

The intelligence of SiriusXM Traffic provides detailed traffic information including major accidents, construction, and road closings - plus color-coded roads on your screen that illustrate traffic speed in major metro areas. With voice-activated controls, you can enter the destination of your choice without ever taking your hands off the wheel. Select models also feature a multi-touch, high-resolution screen with pinch, swipe, and stretch capability.


HARMAN KARDON

Subaru offers an extensive line of premium audio systems featuring Harman Kardon speakers and amplification. Each system features a dedicated amplifier and an array of premium speakers around the cabin to create stunning clarity. Available on select 2015 and 2016 Legacy, Outback, Forester, WRX, and WRX STI models.