Choose Your Subaru Raffle
Haddad Subaru and Berkshire Humane Society have launched their 8th annual "Choose Your Subaru" car raffle. One lucky winner will have their choice of a 2022 Subaru Crosstrek Limited, Forester Premium or Outback Premium with a value up to $33,000.
Tickets are $40 each or three for $100 and can be purchased at:
Berkshire Humane Society main shelter, 214 Barker Road in Pittsfield

Haddad Subaru, 652 East Street in Pittsfield

Baker's Golf Center, 633 South Main Street in Lanesboro

Chez Pet at Lenox Commons, 55 Pittsfield Road #48 in Lenox

Catwalk Boutique, 325 Stockbridge Road in Great Barrington and 53 Church Street in Lenox

Purradise, 301 Stockbridge Road in Great Barrington
Tickets are also available by calling the shelter at 413-447-7878 extension 131. Berkshire Humane Society will send ticket stubs to purchasers.
The raffle is limited to 2,400 tickets. If a minimum of 1,000 tickets are not sold, the raffle will convert to a 50/50 drawing of net proceeds. The winner will be drawn on Saturday, October 30 at 1p.m. at the shelter at 214 Barker Road.
Winner will be drawn at 1PM on October 30, 2021 at Berkshire Humane Society. No need to be present. Winner must claim prize within 30 days. Winner is responsible for all taxes, title and associated fees. Prize is not transferable. Raffle limited to 2,400 tickets, if a minimum of 1,000 are not sold, the raffle will convert to a 50/50 drawing of the net proceeds. Car provided by Haddad Subaru of Pittsfield, MA. Berkshire Humane Society is a registered 501(c)(3) charity.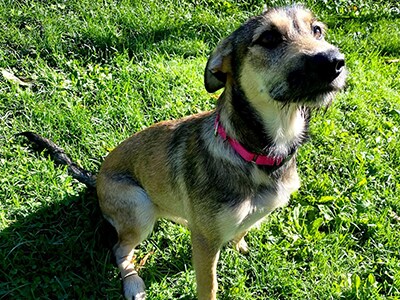 Rosie
Hi, I'm Rosie! I am a rambunctious young gal who is looking for an active home that loves walking as much as I do! I am a little reserved with new people but once I have a second to acclimate then I make friends very quickly! At 9 months old I am going through my adolescent "teenage" phase which means that sometimes I like to push buttons or try new behaviors. I need a steadfast home who is experienced with teen dogs who can help guide me toward adult. Extra training classes would be a wonderful idea for me! I haven't had a lot of experience with other dogs but I might be open to having a quiet companion. I would do best in a home with no kids or cats.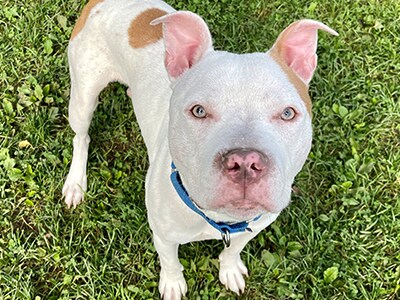 Draco
Hello, my name is Draco. I am the sweetest goofball you will ever meet. New situations can make me a bit nervous, but with some time and patience I tend to come around quickly. I LOVE going for walks and would make a good hiking buddy for someone. I also love meeting new dogs and people. I do have some skin sensitivities and will need to be on a special diet for that. I could live in a home with another dog and mature kids 5+. But no kitty cats please as I like to chase them. I would also do best in a home setting as I can be very noise sensitive.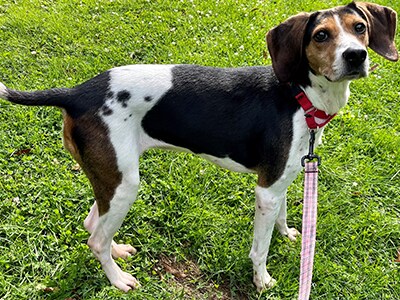 Gina
Hello, my name is Gina. I'm a 6-year-old Treeing Walker Coonhound/Beagle mix. I'm a goofy, energetic, and sweet girl looking for someone to take me on lots of adventures. I love to go for walks and romp around the pen. In typical Coonhound fashion, I can be quite loud so a home setting would be best for me. I have lived in a home with other dogs and did well so I could possibly live with another dog. I could live with respectful children that are ages 8+, but no kitty cats please as I do have a bit of a prey drive.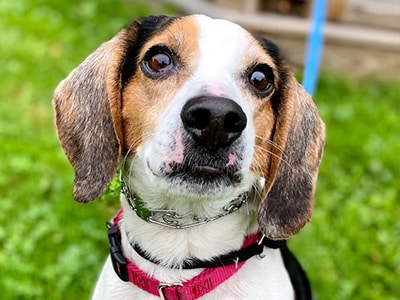 Jackson
Jackson is a cute 5-year-old beagle who has come a long way since he arrived at the shelter. He was surrendered because his former owner's landlord would not allow Jackson in the rental. Jackson should go to a home with no other pets or young children. Less than once a month, Jackson has had seizures, but he is not on medication for it per veterinarian recommendation, because they are so infrequent. Happy-go-lucky Jackson would love to go home with you and be your best beagle bud!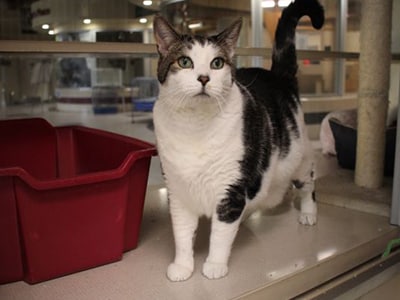 Tommy
Tommy is a sweet 4-year-old neutered male who was surrendered to Berkshire Humane Society because his owner didn't want him anymore. Tommy is a friendly guy who will greet you with a "meow". He loves attention, but doesn't like to be picked up, which may be because he is a BIG boy. Like many of us, he could shed a few pounds. Tommy is playful and needs extra time to do so. He's not good with cats or dogs, so should be the only pet in the house. Tommy is a dark brown and white tiger with handsome markings.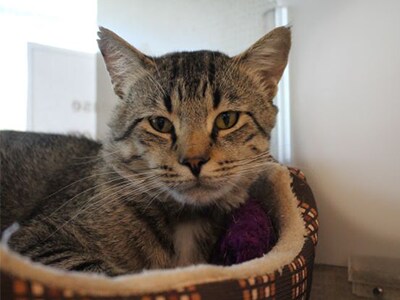 Baxter
Baxter is a 10-month-old neutered domestic shorthair cat who was found as a stray. This handsome brown tiger is FIV, or Feline Immunodeficiency Virus, positive. With this, he's a special needs cat, but as long as he is kept inside and has good care, he should live a normal lifespan to give you many years of love.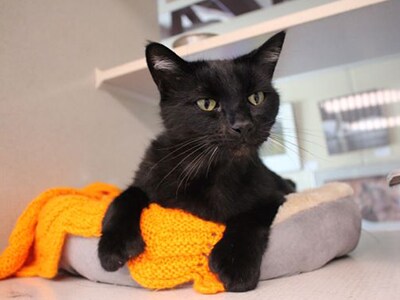 Bono
Bono is a lovely black medium-haired cat who was found as a stray. He is about 7-years-old and has extra toes on his feet. He is an affectionate boy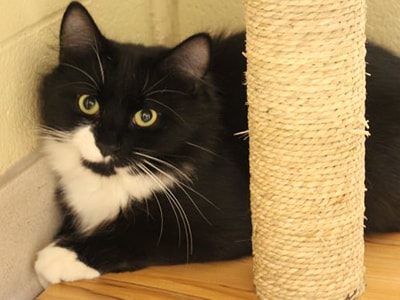 Data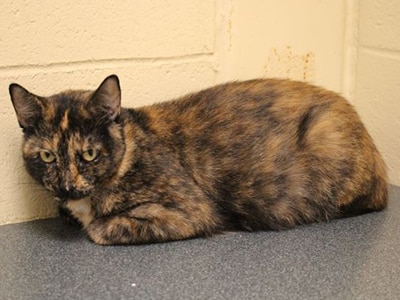 Sassy
Data and Sassy are 1-2-year-old shorthair domestic cats found as strays. They are a bonded pair. Data is a handsome black and white tuxedo male and Sassy is a beautiful tortoiseshell female. They ae shy at first and have never known to have lived with children.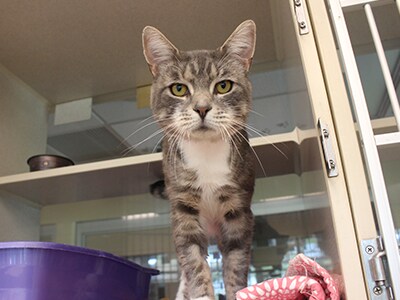 Earvin
Earvin a sweet, lovable 2-year-old grey and tan tiger with white paws. He's a special needs kitty because he has a heart murmur. Found as a stray, Earvin gets along with dogs.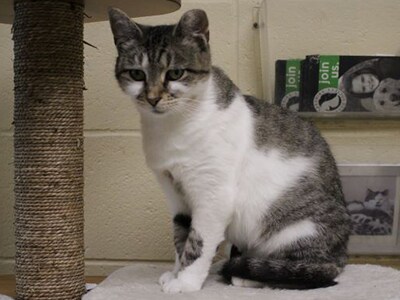 Diamond
Diamond is a sweet, friendly senior cat who is 7-8 years old. She is a pretty white and grey tiger who was found as a stray. She gets along with other cats. Because she is over 7 years old, Diamond's adoption fee is being sponsored by the Danny Boy Adoption Fund.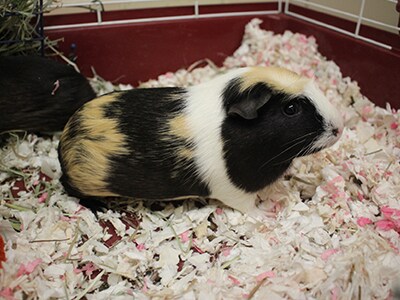 Jellybean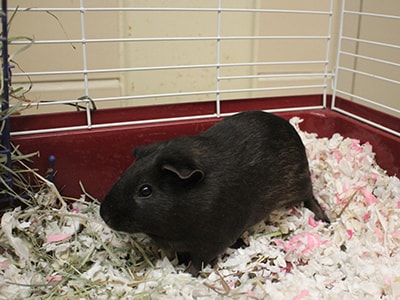 Moon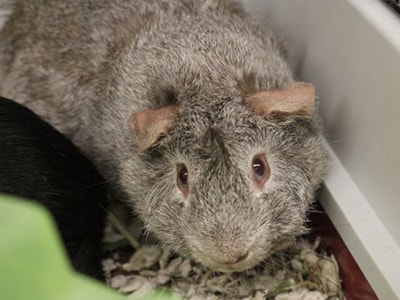 Milo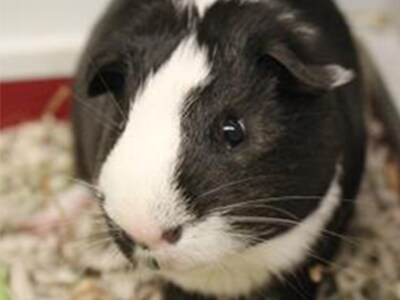 Wolfgang
We have several guinea pig pairs: Jellybean and Moon, tricolored and brown/black females; tan and white Priya and her brown and white daughter; and males Milo (grey) and Wolfgang, a black and white guinea pig, who looks somewhat like a skunk.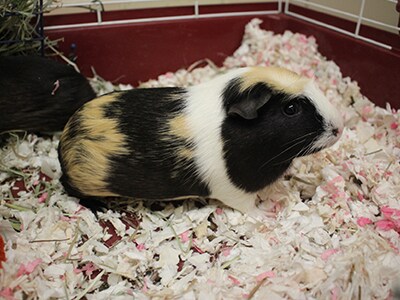 Hamsters
We have an unnamed male hamster (photo) and a female hamster named Brittany Spears. They are kept in separate cages and are as cute as can be. They were surrendered because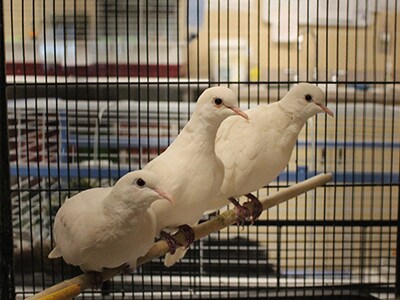 Doves
We have three doves, for which this is the fourth time they are at Berkshire Humane Society. They were too much responsibility for their first owner, the health of their second owner was declining, and their third owner became allergic to them. These birds will relax you with their soothing coos.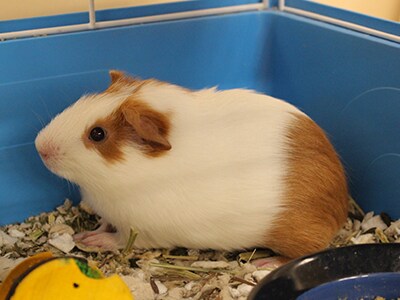 Loki
Loki is a lonely guinea pig. He's the last male left of a group of 15 guinea surrendered back in March, that eventually became 27 guinea pigs when several of the females gave birth. Loki was born at the shelter five days after arriving. Because we adopted out the males in pairs and there was an odd number of them, Loki became the odd man out. He's the sweetest boy and has only known shelter life and is now the animal with the longest tenure at the shelter, so would love a home of his own!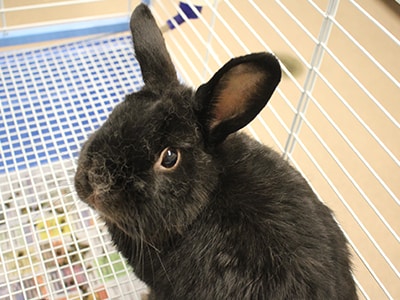 Sully
Sully is a handsome black mixed breed rabbit. He's three years old and came to Berkshire Humane Society because his owner did not have enough time for him.
About Our Partner Shelter
Located in Pittsfield, MA, Berkshire Humane Society (BHS) is a private nonprofit animal shelter.
Since our beginning in 1992, BHS has sheltered over 53,000 homeless animals who are cared for and made available for adoption. We aren't  affiliated with the Massachusetts Society for the Prevention of Cruelty to Animals (MSPCA) or any other animal welfare group.
BHS prides ourselves on being a valuable member of and an essential resource for our community.
As the only open admission shelter serving Berkshire County and surrounding areas, BHS accepts all companion animals - no matter their age, breed, temperament, or health. There is no restriction on the length of time that any adoptable companion animal remains at the shelter.  Some are with us for only days before they are placed with new loving families - others for months. We're proud that we're able to rehome 100% of all our healthy, adoptable dogs, cats, small mammals, and birds.
In addition to our primary mission of sheltering homeless animals, BHS offers many vital programs and services that benefit owned animals and their people in our community. These include low-cost spaying and neutering, free educational programs for local schools and organizations, a pet-food pantry for financially challenged pet owners, and temporary foster care for the pets of owners who are in crisis or transition.
BHS receives no local, state, or federal funding. Therefore, the welfare of our companion animals and the future of our organization depend on the compassion and generosity of our friends and supporters.
More Ways To Love Pets!
It's no secret that Subaru of New England loves pets! Each year, we designate October as our Subaru Loves Pets month. As part of the Subaru Love Promise, the #SNELovesPets Campaign is dedicated to supporting and promoting animal health, safety, and happiness. We also hope to shine a much-deserved light on, and raise awareness for non-profit organizations throughout New England that are committed to improving the lives of all animals every single day. That is the reason we are donating $5 for every unique pet picture uploaded and tagged with #SNELovesPets on Instagram, Twitter, or Facebook during the month of October.
Want To Learn More About Pet Adoption?